Career
Do you want to work at WHYSEC?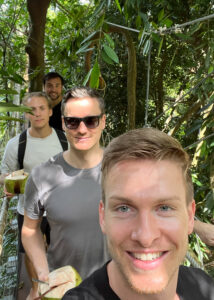 At WHYSEC, our people are our greatest asset. We're a dynamic and innovative company making a difference in the InfoSec industry through cutting-edge products/services. We're constantly pushing boundaries and seeking talented individuals who share our passion and drive.
Our culture is built on collaboration, excellence, and diversity. We value everyone's ideas and create an environment where potential is unleashed. We prioritize growth, learning, and work-life balance.
Join a team of talented professionals who are passionate about what they do. We nurture talent and provide resources for success, offering exciting opportunities for growth and development.
We prioritize employee well-being, offering competitive compensation, flexible work arrangements, and comprehensive benefits. We believe in work-life balance for motivated and engaged teams.
We celebrate diversity and inclusivity, fostering innovation and a vibrant culture. Join us on this journey of growth and innovation. Explore current job openings and contribute to our mission. Let's shape the future together.
Start your career with us today!
Our mission: We automate and simplify Information Security.
Filling out huge checklists and navigating through Excel sheets is annoying and time-consuming. We want to transform the compliance and security journey of companies into an enjoyable experience that brings tangible benefits.
Innovation: Embracing a forward-thinking mindset, we are a cloud-native and remote company ourselves.

Collaboration: Placing our customers at the heart of everything we do, we meet eye-to-eye with your team.

Continuous learning: Cultivating a culture of continuous learning, we stay curious and actively seeking for growth, as well as improvement.
Didn't Find a Position That Suits You? Maybe We Will!
We're always looking for talented people. Submit your resume and we'll be in touch if anything comes up.